Programs / Residency Applications / Notifications / Workshops / Opportunities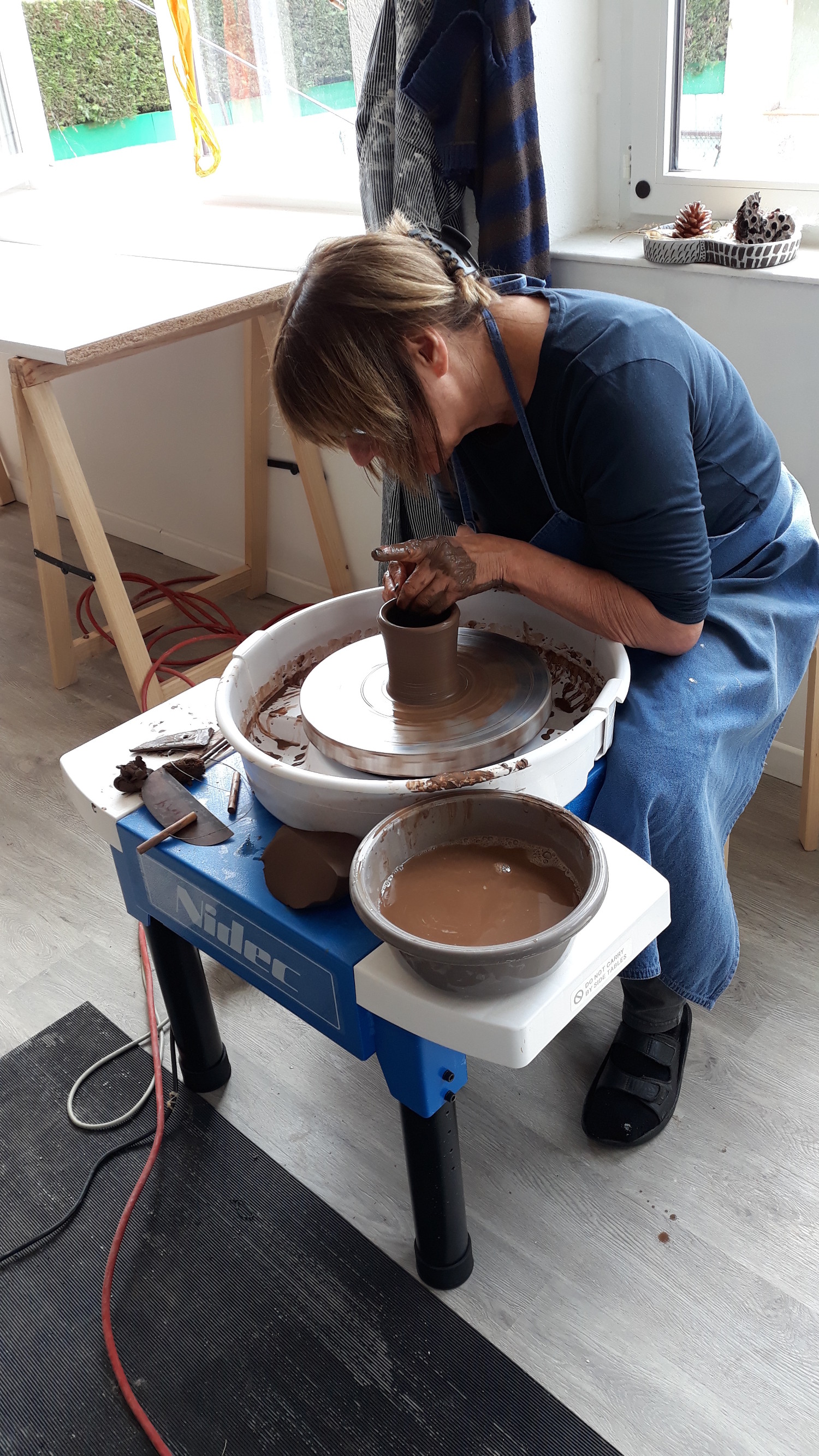 Program
Why exchange?? Exchange is the central theme. Exchange in conversation, learning process, exchange with another culture, and the internal exchange that happens as we develop our artwork. This is an opportunity to work with other artists, exchange ideas, develop new relationships, network, have new influences, experiment, and explore other aspects of creativity and ideas. For a group experience, there is the opportunity for creating memories, sharing inspirations, and the development of relationships.
The program is flexible,1 week to 3 months, with preference, and price-break, for longer stays. Groups are encouraged. The studio is fully equipped with 1 large high-fire electric kiln, wheels, tables, tools, underglazes, glaze making materials and a clear glaze. Other arts can be accommodated. We can create a space for exhibition as work develops. Four clays are available to purchase prior to arrival, and all subsequent visits to suppliers can be arranged.
All artists have available assistance in any area they need. Artists are free to work at their leisure.
Private lessons and individually designed courses are available for an additional charge. Clay and firings are sold separately.
Application Process
Residency Application
See Contact Page to send your message or questions! Contact
Residencies of 1 week to 3 months are available. There is a price break for the 2 and 3 Month Residency. For ceramic residency a 3 week residency is suggested as a minimum to complete work to be able to ship.
For all Residencies, please send the following:
A brief statement of intention
Resume/ CV
4-6 images or website
Requested dates
Group - If applying as a group: brief statement of request/intention, with members names, 4 images or website and Requested dates
Weekly residency: Send me your request or idea and requested dates
There is a price break for the 2- and 3- Month Residency
Structured Program Private lessons:
The structured program is available to all levels of ceramic students. The prices are for an individually designed structure practice for 2 weeks, which has the possibility of expanding to 4 weeks. Included is the use of the studio to practice. Clay is purchased separately.
2-week Beginner's course
2-week course for intermediate and advanced
Month long program available
Notification:
Deposit fee required within 10 days of acceptance notification
Monthly fee required 1 month in advance of start-date
Weekly program fee due prior to start date as scheduled
3-Month program fee - first month due 1 month prior to start date - monthly payments for the consecutive months.
Deposits are refundable 2 months prior to start date minus 10% fee for Residency Programs only
I am so lucky to have Lauren so close to me. As a beginner, it was such a gift to learn from Lauren's 40+ years in the industry. Right away, I felt Lauren's skills as a teacher - super patient, knowledgeable, and kind. The environment nurtured my creativity and I progressed significantly in the month I was with her. The studio is lovely - lots of natural light, well laid out, and clean. I already look forward to doing another intensive or workshop with her. Highly, highly recommended.

Ivonne Sanchez

Nice, France

2022
Since my arrival here in Saint Raphael my eyes and heart have been alive with the color, architecture and life around me. Riding my bike and wandering on foot has provided me with the opportunity to explore the natural wonders of the red rocks, aqua water and calm culture through my camera lens. Each day I have brought the spirit of this beautiful place back to the studio and through drawing, sculpting and throwing on the wheel, clay has retold the story of my experience here. It is not often I am able to be quiet, but I have found that the IaRex l'Atelier, with its beautiful views and peaceful vibe is an ultimate haven for creating in nurtured solace. Best of all I am leaving with not only new work particular to this place, but a new friendship with Lauren, a valued contributor to the ceramics community. Her welcoming presence and knowledgeable command of the arts is a perfect balance to lead you through your stay here.

Shanna Fliegel

2022
I spent five weeks taking ceramics classes at IaRex l'Atelier and had the most amazing time! Lauren is a natural teacher - she was quickly able to gauge my skill level coming in and tailor my classes to what would help me improve most. With her guidance over a few weeks I learned how to keep pieces centered; pull walls with uniform thickness; make pieces with a specific form in mind; throw large bowls, vases, rounded forms, and jars with lids; paint with underglazes; recycle clay; organize a studio; and so much more. Lauren was encouraging as I learned new skills, and helped me gain a more general appreciation for the art form. Outside of classes, she always made sure that I was doing okay with living abroad for the first time and offered her help wherever she could. Most importantly, it was wonderful to have her company during my time there and I learned many life lessons from her that extended beyond ceramics.

The studio is a beautiful place to create - it has lots of sunlight, is well supplied with tools, and is kept very organized and clean. Saint Raphael was also a nice place to stay with the beach just a few minutes away and boulangeries all around. It was really easy to take the train up and down the coast to Nice and Marseilles, and there were even direct lines to Paris and Lyon.

I loved my first month at the studio so much that I came back again for a second set of classes, and know that as soon as I find the time in my schedule I would like to go back again. I would highly recommend the program to anyone looking to either improve their ceramic skills or to create with dedicated time and space in a beautiful part of the world.

Iman Wahle

2022
In the midst of a beautiful cross-breeze, we made things out of Spanish black clay on the wheel and by hand. It just a short time, Lauren's studio and its surrounding town charmed its way into our hearts and for sure, we will be back for another stay.

Anna Giocondo

2022
The ceramic studio from laRex Atelier is well equipped and has lots of space. It is the perfect place to explore new ideas and create new works. With the great support of Lauren Kearns, the host, I had a good time working and learning new things about ceramic materials. Whatever you need, she will help you with it. St. Raphael is also perfect to explore the surrounding area and get impressions of the easy French feeling in cote Azur. I hope to come back soon to this inspiring place.

Rahel Zweig

2022
The international Artist Residency Exchange in Saint Raphaël hosted by Lauren Kearns is a place where creativity and collaboration thrives. The studio environment is spacious, well equipped and full of natural light. The opportunity to gather and grow creatively at IARE brings artists together from all over the world to make lasting connections. Art is alive on the Côte d'Azur. Who wouldn't want to be there?

Michelle Gregor

2023
The International Artists Residency Exchange provides the perfect ambiance for a creative flow, with abundant materials and expert teaching, against a backdrop of sea and sand in the charming South of France. A minutes!

Brinda Wachs

2023
Lauren's studio brings together a phenomenal teacher - Michelle Gregor - and the most fun group of artists, keen to share and learn from each other. Laughter and artistry and a bit of work, a perfect combination...... Lauren is a great warm and kind host and a great artist. She made us feel at home immediately.

Kashka Huyton

2023
J'ai eu la chance de participer à un atelier de cinq jours conduit par Michelle Gregor au studio 'International Artist Residency Exchange' durant l'été 2023. Ce fût une occasion d'échanges enrichissants avec des personnes de différents horizons dans un studio bien organisé, vaste et lumineux. Par dessus tout nous avons eu des enseignements précieux offerts avec générosité par Madame Gregor. Malgré la courte période de cet atelier, nous avons appris sur le modelage,la composition, le traitement des surfaces, l'harmonisation des couleurs, préparation des pièces pour la cuisson et avons été en mesure d'effectuer une cuisson pour ramener à la maison certaines de nos créations de la semaine!

Merci a Madame Gregor pour le partage de son art et expertise!

Merci au studio 'International Artist Residency Exchange' pour l'organisation de cet atelier!

Odette Devost

2023
Artists/Instructors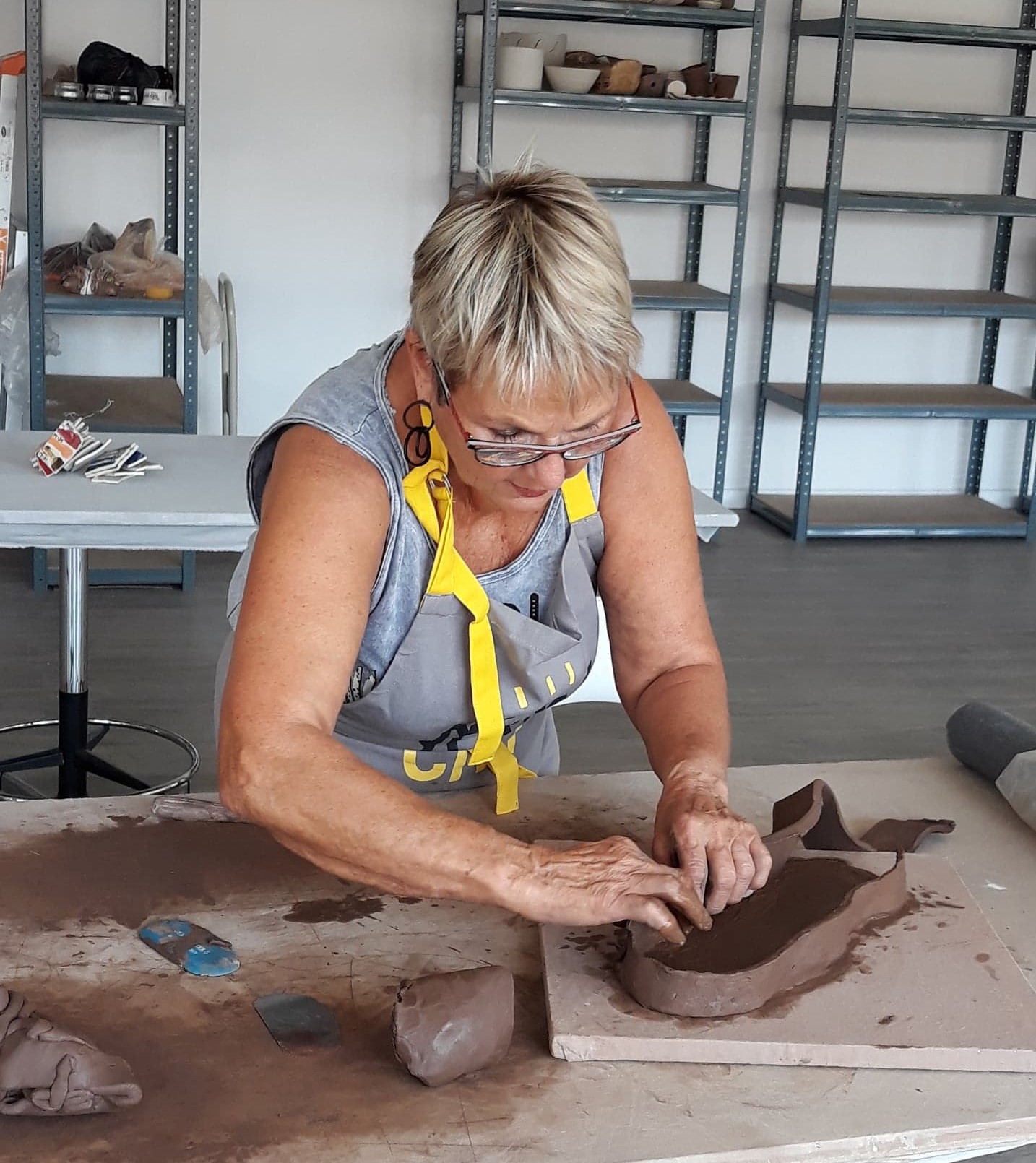 Bring a group of students to exchange, experience, learn and discover! The programming for IaRex l'Atelier is flexible. The space is open to workshop proposals.
Time: 3-day workshops to 1 month
I have a formula for 3 options available of creating workshop fees. Send me an email for more information about how to price your workshop!
Applications:
Send a Proposal with the following information:
Course Title and description
Requested dates
Fee requirement
Materials required
Use the Contact Page, or send an email to iare.kearns@gmail.com
Workshop Information
All fees for all workshops are due 2 months prior to the workshop start date. A deposit of 300€ is required at the time of sign up
Monthly payments are accepted for Workshops only
When you come to the IaRex l'Atelier for a workshop, you are welcomed to stay for 1 extra week for a reduced price of 125€ a week
Refunds available for workshop, minus a 20% fee, 2 months prior to workshop start date.
Reservation Confirmation
When the workshop is full you will be notified. Please wait until the confirmation email and phone call to buy tickets or reserve accommodations.
Included in workshops: Materials and firing. Weekday lunches are optional.
Additional Opportunities
In addition, the following 2.5-hour sessions
Birthday Party
Team Building Experience
Working with clay
Learn to Draw
Private Lessons
Wheel
Private Course development